David Doloreux
Topic: "Struggling with Regional Innovation Models: Towards a Synthesis of the Connection between Geography and Innovation"

David Doloreux s a Full Professor in the Telfer School of Management at the University of Ottawa and holds the Research Chair on entrepreneurship, innovation and regional development.  His research program focuses on two principal themes: the determinants of innovation in manufacturing firms and KIBS and the dynamics and functions of clusters and regional innovation systems across different sectors and regions in Canada and Europe.  He has published, among others, in Journal of Economic Geography, Industry & Innovation, Regional Studies, and Entrepreneurship & Regional Development.  He has co-edited one book : Knowledge-Intensive Business Services: Geography and Innovation (Ashgate, 2010)
Dominique Foray
Topic: "Supporting the Emergence of Micro-Systems of Innovation through Smart Specialisation: a new EU Policy Approach"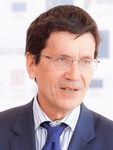 Dominique Foray is Full Professor at the Ecole Polytechnique Fédérale de Lausanne (EPFL) and holds the Chair of Economics and Management of Innovation (CEMI). He is a member of the National Research Council (Switzerland); the Advisory Board of the Swiss Economic Institute (KOF); the World Economic Forum's Global Agenda Council; and a foreign member of the Center of Capitalism and Society (Columbia University, New York). 
From 2008 to 2011, he served as chairman of the expert group "Knowledge for Growth"; a group of prominent economists created to advise Commissioner J. Potocnik (European Commission, DG research). This is during his service as member of this Group that he developed the concept of smart specialisation (together with P.A.David and B.Hall) that is now a key policy mechanism of the EU (cohesion policy).  
D. Foray research interests include all topics and issues related to the economics and management of technology, knowledge and innovation at both the micro and macro levels. This broad field covers the economics of science and technology with a particular focus on high tech sectors, the management of large-scale technological projects, international comparisons of institutions, and systems of innovation within the context of the new economy. Intellectual property and competition policies, information technology and the new economy, capital market and entrepreneurship, national systems of innovation are fields of high relevance in his research.
Robert Hassink
Topic: "Smart Specialization: A Smarter Cluster Policy? A Constructive Critique"

Robert Hassink is Professor of Economic Geography at Kiel University in Germany and Visiting Professor in the School of Geography, Politics & Sociology at Newcastle University, UK. 
After receiving his PhD in 1992 from the University of Utrecht, the Netherlands, he has worked as a research fellow, consultant, assistant and temporary professor at several research institutes and universities in the Netherlands, Germany, Norway and South Korea. 
Over the years he has carried out various research projects on regional innovation policies, industrial restructuring and regional economic development in Western Europe and East Asia, particularly South Korea, which have been sponsored by, among others, 
the European Science Foundation, the German Research Foundation, the Research Council of Norway, several Directorate-Generals of the European Commission, the World Bank and the OECD. 
Recently, he was project leader of the international collaborative research project "Cluster life cycles", sponsored by the European Science Foundation. He has published widely in English, Dutch, German, French and Korean and is author and co-author of 41 articles in journals 
included in the Social Sciences Citat
ion Index (SSCI).